Breakfast is one of the most important meals in the day. But… Are you also a little tired of your yoghurt every day? Or your cornflakes with milk in the morning? Maybe even the smoothie every now and then have become a little boring. Well, there is an alternative that can be prepared in all sorts of flavours, colours and sizes, and with the most delicious ingredients! Smoothie bowls come in all sorts and sizes, look amazing and are  actually not so difficult to prepare!
How to?
Have you ever made a smoothie? Probably! Well, preparing a smoothie bowl is actually not that different. Smoothie bowls are however made with more frozen ingredients. For example, think of frozen bananas, kiwis or berries. These frozen fruits make for an amazing texture which is nice to eat with a spoon rather than to drink it. Add a little (vegetarian) milk for some liquidity, and the bowl is ready to eat! 
With what?
When it comes to  smoothie bowls, ingredients are almost limitless. As mentioned before, you can add all kinds of fruit. Whether you prefer the classics like bananas and berries or more exotic fruits like mango and papaya, anything can go in your bowl. Vegetables can also be very nice additions to your colourful creation, such as spinach, red beets or carrots! Super healthy!
So, a frozen smoothie? 
No, not really. When you have put your smoothie creation into an actual bowl, it is time to add toppings. These toppings can consist of all kinds of things, really! You can add granola on top, nuts and dried berries, shaved coconut or even cocoa powder. Anything that seems delicious and goes well with your other ingredients… put it all on top!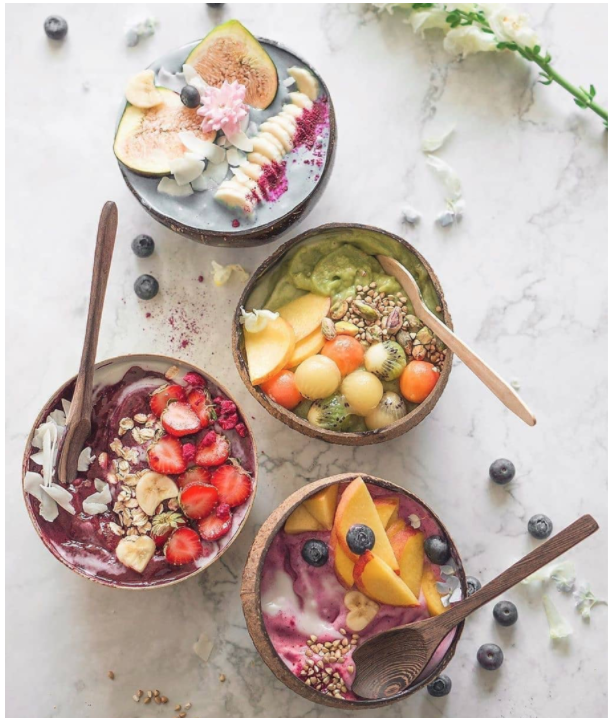 Sounds good!
Exactly! Not only does it indeed sound amazing, it is also a great way to get all your needed vitamins in the morning and to start your day productively. In addition , it allows for endless creativity and exploration with ingredients. So, get into the kitchen and combine fruits with vegetables and nuts with dates. Anything  can work! 
So, go explore and discover all types of delicious smoothie bowls. The internet is full of recipes you can try, but you can also let your mind run wild with ideas and look for your own signature smoothie bowl. Good luck!
Author: Renée Mötter   
Editor: Gwendolyne Cheung
Illustrator: Ira Lizenko