Last Friday night, nineteen IBCoM students gathered for a special occasion. "Another midnight party in Annabelle's club, you mean?". No! It's the Symposium of IBCoM Honours Programme. The programme started October as an extra challenge for IBCoM's most talented students, with two modules spreading across six months. Last Friday, they concluded their intellectual journey with an amazing Symposium, with reminiscing videos and panel discussions following after. Our Human of IBCoM today is also one of IBCoM HP's extraordinary people, Khanh Chu. We sat down to talk about the unconventional storytelling that led him to Honours and his mind-opening moments during the programme.
An eccentric path to Honours
On meeting Khanh the first thing that struck me was the down-to-earth energy around him and his smiley face. IBCoM Honours lecturers must have sensed his eccentricity too when reading his application. Besides a motivation letter, there was an essay asking students to analyze a story that was meaningful to them. Khanh's story was…special: 
"There was a penguin breathing with his butt. One day he sat down and died. The End" 
It was nonetheless a story, he said, with characters – conflict – climax – resolution. "You don't get a moral lesson, but there is still a knowledge sharing going on – something stories are meant to do. Even though it is a very weird knowledge." Indeed, upon hearing the story, I found myself strangely intrigued, notwithstanding its utter lack of grand philosophy. 
The penguin story was just another outrageous idea wandering through Khanh's mind. He shared: "My thoughts are all over the place. When people are talking, my mind has already jumped to other related stuff. Imagine if we were talking about cards, and I suddenly spoke out that it has been a while since I had bell peppers – just because last week, I played cards after a dinner with bell peppers." 
He termed his mindset "chaotic evil", but unabashedly standing was what made him shine in Honours application. "We don't really have a definite start, so it is nice to have something to rely on to know who we are. And I found that in Numerology". With that opening in the interview round, Khanh proved himself an unique piece that Honours was looking for.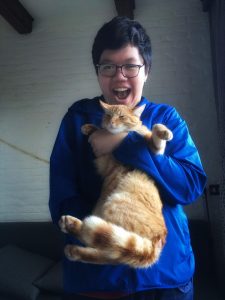 Honours Program: My story, your story, and our story!
Storytelling is deeply embedded in our culture and society, and the heart of IBCoM Honours Programme as well. Having proven his storytelling potentials, Khanh then learned how to construct compelling stories on various levels: Identity, Organization, Entities (like the city of Rotterdam), and even Europe. 
What stood out the most to Khanh during the Honours Programme was the diversity in tackling a problem. "Everyone has their unique way of looking into the challenge and coming up with conclusions. Something I picked up during The Story of Europe module, and just seems right the more we worked together." It wasn't just about answering the brief, he said, but an Honours challenge is about utilizing students' diverse background and experience to make the most out of a joint solution. "You can look into our products and see our personalities, identities, and effort being put into those – we and the lecturers, stakeholders absolutely love that." 
To have come up with such monumental group work, a good morale and team spirit had to be present. "I was in awe with everyone, not only because of their great questions during lectures, but also how devoted they are to the group work". But hold your thoughts on Honours students being invincible beings, because in Khanh's words, "somehow we always rant to each other about how tired we are with school already." Still, he sees that everyone will actively approach, divide work and give 110% of themselves to finishing the tasks. "That Honours feeling of great teamwork and engagement, that is the kind of euphoria that everyone should try out once."
Ending for A New Beginning
We discussed at length Khanh's wonderful time in Honours, what he had learned and many memorable moments. But towards the end, he concluded with melancholy: "I kind of feel sad now that I don't have anything to look forward to on Friday afternoons anymore." "Honours is the environment I'd hoped for in an international university, where everyone is as passionate about a topic as you are – and that makes Honours so memorable to me." He is optimistic of the future, where he will be taking everything he has learned so far in Honours to his internship, the next year, and writing the story of his life.
For those who want to become the next generation of IBCoM Honours students, Khanh also gave some candid advice: "If you want to go in depth and understand more about yourself and the society you are living in, you should definitely apply". "Find your spark, because the best way for you to identify Honours students from others is their sparkling and inspiring personality." 
See Also

For more stories of IBCoM Honours students, check out IBCoM Honours Symposium at: https://www.youtube.com/watch?v=n4ID1SGNsqI
Writer: Tra Mi Nguyen
Editor: Phoebe Elliott
Visuals by: Thanh Nguyen