It is already April and we are finally saying goodbye to the awful winter that has kept us in hibernation for the past few months. A bright sunshine and 20 degrees Celsius are a good enough sign that the brutal Dutch winds are now long gone and we can yet again enjoy our daily cycling commutes with the gentle (ish) winds of spring of the Netherlands.
Happy sheep are skipping around their fields and us humans are starting to enjoy outdoor activities again. Whether it is running, walking, skipping or even crawling (depending on the severity of your binge eating during the winter hibernation), we are definitely showing some signs of life while enjoying the blossoming Magnolia trees and the brightly coloured daffodils and tulips – because, let's be honest, Spring would simply not be Spring in the Netherlands without these beloved Dutch flowers. Fields and fields have come into bloom and if you've caught sight of them, the next thing to add on your 'Spring to do list' is the beautiful Keukenhof gardens that are open until the 13th of May, so hurry up and enjoy this Flower Park with its ridiculous amount of beautifully arranged tulips.
Apart from the brightly coloured flowers however, Spring in the Netherlands also means that all the shops begin to fill up with items in a bold shape of orange – and no it is not connected with Trump in any way, so you can now relax. It is all due to the preparation for Koningsdag on the 27th of April, which is the celebration of the King's birthday and pretty much the biggest party in the Netherlands. Take this cue and start picking up some lovely orange attire and get ready to party like a true Dutchie.
Spring in the Netherlands also means that the previously isolated large open squares transform into huge seating areas, where every Dutchie, with his/her dog, grabs a 'biertje' and soaks up some long-awaited Vitamin D (hopefully without burning themselves). However, to fully enjoy this experience you have to be really quick as the 'terrasjes' fill up in the blink of an eye. So, don't hang about, catapult yourself into the first available seat and enjoy the splendid Spring sunshine.
See Also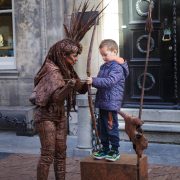 Another way you can tell Spring is finally here, is to keep an eye for the inevitable rise of bare legs on the streets. 'Rokjesdag' or 'skirt day' is the first day of the year that it becomes warm enough for the Dutchies to free their legs. Made popular by the Dutch writer Martin Bril, Rokjesdag is no longer merely a day, but in fact symbolic of the start of Spring. If you're searching for a date for this unofficial holiday, don't. Naturally dictated by the ever-changing Dutch weather, there is no fixed day on the calendar for this so-called skirt day, so make sure to keep an eye on the weather forecast and Buienradar, prepare your best skirt, and pray it won't rain.