In the blink of an eye, the first year of IBCoM has come and gone. Starting from September all the way till now, first years have gone through meeting people from multiple corners of the world in term one, statistics, MPI and other interesting courses in term two and three, and finally, stressful but rewarding group work in term 4. We asked the fellow people who sat in the seats of the rollercoaster that is IBCoM how their experience was. Here is what they had to say about the first year of IBCoM, favorite and least favorite moments, and tips for new students!
How was your first year IBCoM experience?
 Sebastian, 21, Germany
"I really enjoyed it even though I had some minor struggles; but of course that's the normal process of a first year student. Apart from that I am really looking forward to the next year!"
Alex, 21, Germany
"It was all very exciting, all things were new, I didn't struggle as much as I thought I would. There were really nice people, and nice course topics."
A.Q, 20, "Anonymous land"
"It went very exponentially and gradually. At first, it was not what I expected but it got better and better as we went along! MPI was one of the first courses that kinda got me interested."
K.S, 20, Belgium
"It got better than how it first started off, the first term was a bit confusing. I really liked term 2, tutorials of statistics and sociology were nice. In term 3, I enjoyed C&O and the 4th term gave me a feeling that we were done. The weather started to get better and you start feeling the summer vibes."
What was the best part of IBCoM?
 Sebastian:
"Meeting new people and making new friends!"
Alex:
"All the life around the academics"
A.Q:
A.Q jokingly said "Christmas break!" – which lasts about 3 weeks and finally gives you the chance to have no responsibilities and relax.
Other than that, A.Q said: " The first day and this time now because on the first day you have big questions about friendships, teachers and the course, which then get answered as time goes on. Also, everything is new and the new university experience.  Another good thing about IBCoM is that it's very flexible which gives you a lot of opportunities to discover. It's not like medicine or engineering where you're studying something fixed and structured. IBCoM is for you if you're a bit confused with what exactly you want to do".
K.S:
"The best part was being around the people you like and study with, I met a lot of interesting people. Its flexibility appeals and as it's a communication course you can do basically everything with it and finally in second year you have possible electives. With IBcoM, you have so many options and possibilities in terms of what your future could be!"
 What was your least favorite part of IBoM?
Sebastian:
"My least favorite part was some exams and having to 'play the lottery'. Also, housing circumstances aren't always that great and neighbours who listen to music at the most random times of the night."
Alex:
"In Exam week in Term 1, I fell down the stairs the night before the first exam and I was so nervous, it was such a pain! Apart from that all is well"
K.S.:
"Apart from studying – haha- group work and planning for it can get a little stressful but once it's done the feeling of fullfilment is great. Seeing a neat well structured 24 page essay you work hard as a team on is rewarding. A positive thing about the study then, is it really teaches you how to cooperate with people that are different than you and work in ways you're not familiar with. It gives you insights on how to manage and stay calm. You learn good team spirit, which is good for later life"
What are some tips you could give to new students?
Sebastian:
"Don't panic and don't stress, I got stressed out a lot unnecessarily… Be on track but don't over stress everything!" " Join projects such as UNWRAPPED, student associations"
See Also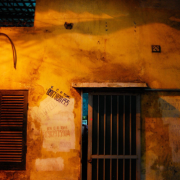 Alex:
"Look forward to IBCoM and embrace the chances you have. IBCoM and Erasmus University have so much to offer that you should try something new. You might have other plans but be open to new ones."
A.Q:
Though he wanted to stay anonymous, A.Q. had a lot of tips to share:
First in term two: "Make sure you study for statistics and know what you're doing, don't leave it to the last minute. Go by each week, show up to the lectures and tutorials and just pay attention as that way it will be easier"
Second: "Teachers play a big role in helping and they kind of shape your experience so make sure you get along."
Third: "Since the first year of IBCoM has broad and flexible courses, keep yourself busy with activities, associations, find hobbies in media to get a glance at what it is you're might want to do. You have so much time in IBCoM it's important that you don't waste it."
Fourth: "Don't get distracted by the sun and good weather!"
And lastly: "Don't steal from SPAR (even if it's by accident) because they will catch you!"
K.S
"First year is the most lax so enjoy it as, then comes second year, and then third year exchange and thesis and then it ends.. Enjoy it and uni life and explore while it's here and while you can." Also, "Be open minded, don't judge a book by its cover. IBCoM is a social course so it's easy to make friends"
To finish it all off, I asked my CTI Lecturer what his experience with teaching first years was like and whether he had any more tips to add. Here's what he had to say:
"Depending on the courses, it starts a bit heavy but you get settled and you massively improve over time!"
"Be curious and open to the diversity of subjects you deal with. Though in year one you don't have voluntary choices, you will later on, and it will help you develop particular interests that you can pursue more independently in the following years and courses. Use these opportunities and check out other things that do not sound immediately fascinating. Give it a try, you have to work with it anyways.. It could turn out to be really interesting"
This was it for for the good, the bad and the shared tips of the first year of IBCoM. To all the newcomers who might be reading this, I hope these insights and tips were somewhat helpful and I wish you the best of luck with your first year experience of IBCoM!