For this month's Humans of IBCoM, I had the pleasure of talking to my friend Rashmi, a second year IBCoM student and a fellow IBCoMagazine writer. She's very talkative and always has an interesting story to tell. So I asked Rashmi what she does besides her studies, to which she answered that she was part of a non-profit organization called 'Giving Back'. 
Curious to know more about this good cause, I asked Rashmi to tell  me more about Giving Back. ' "'Giving Back' is a non-profit organization that allows first generation high-school and university students to gain more knowledge in the professional field, and to make networks. It tries to 'give back' to the community by getting children of disadvantaged neighborhoods in the Netherlands more involved in the professional working life. The organization also aims for a more diverse and inclusive working life by working with students who come from an immigrant background. They do this by organizing events and workshops for such students", she explains.   
I found this very interesting, so I asked her more about her personal experience with the organization. She's been a part of the organization since high school, when she signed up for the programme with two of her friends. She went on a weekend trip with the organization, where she met other high school students and they did many social and educational activities together. This was very exciting for Rashmi, and she quickly enjoyed being part of such a diverse and fun space which was very accepting and actively wants to make a change.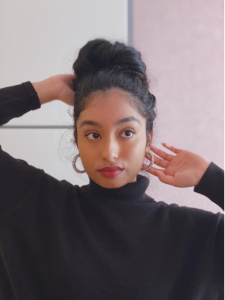 Moreover, Rashmi mentioned how being part of 'Giving Back' affected her mindset. "Giving Back organized many workshops related to leadership, mental health, and team building. These were very educational and have also allowed me to realize how important it is for me to get out of my comfort zone. This is the only way I can truly discover who I am and what I like, moreover, it also gave me self-confidence." She feels very grateful to be part of such a team, and has used the organization as an inspiration source for her IBCoMagazine articles as well. The organization does not only try to 'give back' to its local dutch students, but they also organize events to help those who are less fortunate, which was very inspiring to Rashmi. 
Interviewing Rashmi and learning more about this organization personally made me realize how important it is to fight for an inclusive and diverse working environment, as not everyone is granted the same opportunities as others. We must find ways to help our communities and strive for equity. If you want to make a difference, it really does start within your community, and Rashmi's story of joining such an organization in her community should inspire others to do the same.
Author: Danisha Carron
Editor: Gwendolyne Cheung
Illustrator: Ira Lizenko