Being an international student and starting a completely new journey of your life 10.000km away from home is, by all means, an intimidating experience. But with all the fun waiting for you ahead with parties to attend, windmills to see and stroopwafels to eat, things don't seem that scary anymore.
But being an international student and starting a completely new journey 6-hour away right at home is, by all means, still an intimidating experience. How about all the fun anyway? This month's Humans of IBCoM – Ellie will give you the benefit of the doubt. Grab a snack, preferably a stroopwafel, and get ready for the first-year story from the other side of the globe.
Thuy-Duong Dao-Dang, or Ellie, is a 20-year-old IBCoM freshman living in Ho Chi Minh City, Vietnam. She and I are, fitting enough, online friends since she slid into my Facebook inbox for some questions about her application to the university. One year later, we still have boba milk tea date in Rotterdam left awaited and Ellie has already spent halfway through her first year with IBCoM, filled with online classes and frustrating attempts to socialize.
When asked about her expectations-and-reality of IBCoM, she chose to focus on 2 factors – practicality and international orientation. Ever since reading the program's brochure and writing the motivation letter, it seemed like IBCoM is more practical than other Communication and Media courses that she had also considered and the international quality was strongly emphasized. Maybe the reality hasn't been confirmed yet, since first-year courses are mostly theoretical and methodological, but Ellie believes that these classes can build such a strong foundation for her in the future yet to come. On the subject of studying, she talks about what is not necessarily a clash, but rather a difference in culture within the classroom environment, even if it's online. Instead of sitting in class and absorbing knowledge passively, people seem to take a more active role here in IBCoM, or probably in the Netherlands in general, where debates between teachers and students are not odd and speaking up and defending your own ideas are more than welcome.
Online classes and time differences lead to struggles  of late-night tutorials and mid-night teamwork meetings. One might wonder if there are any good things about this anyway? Ellie has just the right answer for you. Being in a diverse class with different nationalities, it is inevitable that we students have our clashes of ideas and styles. Texting and calling can only serve us to such a certain extent, but there are still things left unsaid, unheard and sometimes even close to being misunderstood. "Online classes make me more sympathetic in a way. I feel like I'm trying harder to put myself in another one's shoes more than ever before. Sometimes, there are things people say that can hurt, but then I step back and give myself time to think and understand why they might behave that way,"  Ellie shared. In spite of having previous experience of adapting to a new environment, she told me she still feels like a newbie, and while everyone is making such efforts, online socializing is still not easy. The struggle of starting a conversation with someone from class but not about homework? I'm sure loads of people can relate to it as well.
"I have received so much help from all people in IBCoM." Not only from the student advisor and teachers, she was also excited  to talk about the program-mates she got. Despite not being even close to each other, when she asks for help, they are all willing to help out as much as possible. "It's amazing, really."
"So final question, do you think that you like IBCoM?"
See Also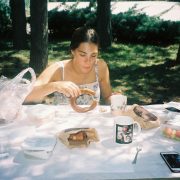 "I have experienced my fair share of IBCoM. But this question? Let's save it until my graduation, shall we?"
Author: Bao Thu Nguyen
Editor: Gwendolyne Cheung
Illustrator: Hanh Tran